A dark, twisted, evil, insane … buddy comedy.

Lawrence is an ever-optimistic suit salesman for whom everything always goes right – until he meets Holloman, a cynical and suicidal credit collector, and everything starts to go wrong. Very wrong.

Is happiness determined by our outlook on life? Or can our destiny be changed … by another.

Funnier than Friends, blacker than The Office, Lawrence & Holloman is a wicked comedy.

– Amazon Books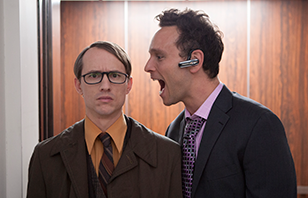 With story consulting from Academy Award™ nominated DANIEL PETRIE JR (writer of Beverly Hills Cop and The Big Easy), and story editing from KYLE HUNTER & ARIEL SHAFFIR (producers/story editors of 50/50, Goon, This is the End), "Lawrence & Holloman" was scripted by Daniel Arnold and Matthew Kowalchuk, adapted from the widely successful play by one of Canada's leading playwrights, MORRIS PANYCH, two-time winner of the Governor General Award.

The film was developed in part by CORUS ENTERTAINMENT, ASTRAL MEDIA, and CREATIVE BC, and produced in association with TELEFILM CANADA, SUPER CHANNEL, OUT TV, and FINALE EDITWORKS.

Executive Producers MARY ANNE WATERHOUSE & ANDREW CURRIE of Quadrant Motion Pictures have produced numerous features including Donovan's Echo starring Danny Glover, The Thaw starring Val Kilmer, and FIDO starring Carrie Ann Moss, while producer PAUL ARMSTRONG of Ameland Films has produced the multi award-winning features See Grace Fly, Ill Fated, and Moving Malcolm starring Elizabeth Berkley, and co-producer / line producer ROBYN WIENER has been co-producer or line producer on Amazon Falls, The Wingman, and American Mary.

This is the debut feature film from director MATTHEW KOWALCHUK.