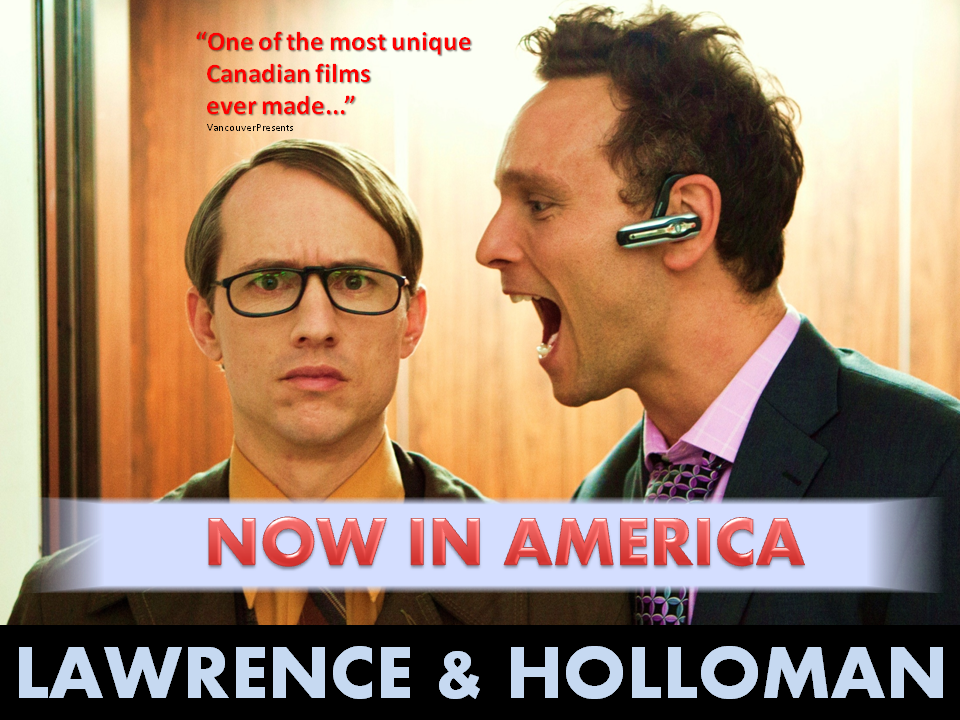 Click here to read the SCREENDAILY announcement
AMERICANS CAN WATCH THE MOVIE ON:
RELEASE: Lawrence & Holloman has been picked up by distributor 108 Media Corp for USA theatrical and VOD release, after sweeping the international festival circuit with 13 Jury Awards, "must-see" reviews, sold out houses, 9 Leo Award nominations, and winning BEST FEATURE at the 15th annual Canadian Comedy Awards. Lawrence & Holloman was released theatrically in Toronto, Edmonton, Vancouver, and Los Angeles.
"Put it on your calendars… the laughs just kept coming in this must-see dark comedy."
(The Cinequest Review)
In this darkly ridiculous buddy comedy, Lawrence, an ever-optimistic suit salesman, lives a happy-go-lucky, charmed life, in which everything always goes right – until he meets Holloman, a cynical and pessimistic credit collector, and everything starts to go wrong. Very wrong.
Is happiness determined by our outlook on life? Or can our destiny be changed … by another.
Distributor 108 Media Corp has theatrically released titles like Deepha Mehta's Midnight's Children, And Now a Word from our Sponsor, Honor, It was you Charlie and John Leguizamo's FUGLY. 108 Media Corp will distribute Lawrence & Holloman in the USA starting with a Los Angeles theatrical release at the Downtown Independent.
 - – - – -
If you're Canadian, packaged DVDs are still on sale.
OWN LAWRENCE & HOLLOMAN (they don't mind)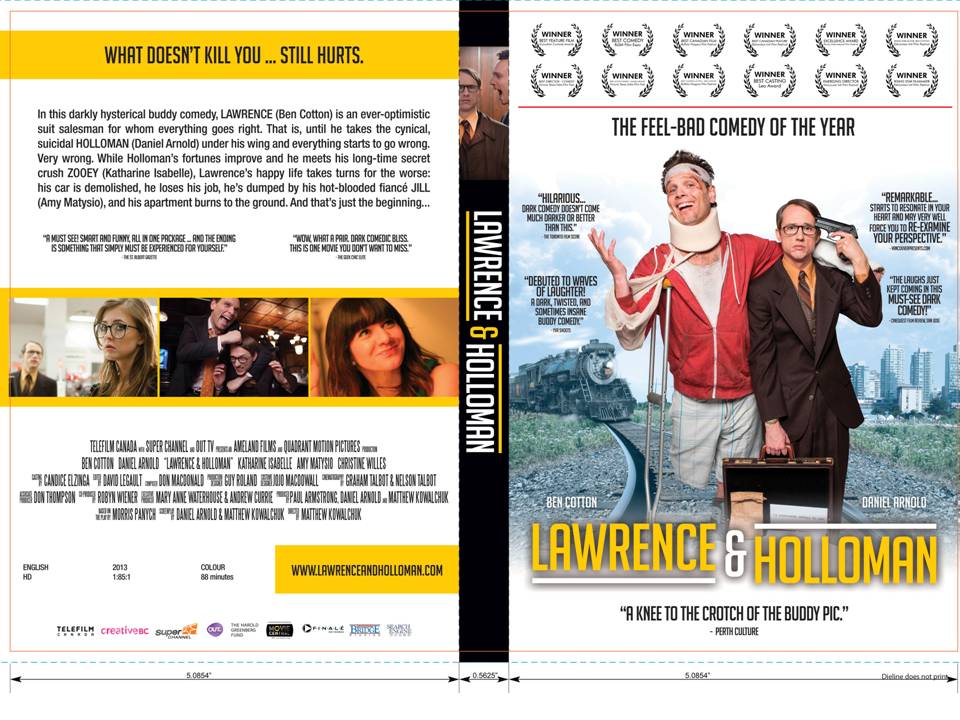 AIRING NOW ON SUPER CHANNEL
Click for broadcast times:
Based on the play 'Lawrence & Holloman' by two-time Governor General Award-winning Canadian playwright Morris Panych (Vigil, Girl in the Goldfish Bowl), the screenplay was co-written by Daniel Arnold (The Janitors) and Matthew Kowalchuk (The Janitors, Penguins). This is Kowalchuk's feature film directorial debut whose short films and stage direction have garnered him several awards.
The film stars the multiple Leo-nominated BEN COTTON (Battlestar Galactica: Blood and Chrome, Cinemanovels), Gemini Award-winning KATHARINE ISABELLE (American Mary, Ginger Snaps, Cinemanovels), multiple Canadian Comedy Award nominee AMY MATYSIO (inSAYSAble, Single White Spenny), and marks the debut starring role in a feature film for internationally acclaimed theatre actor DANIEL ARNOLD (The P.I. Experiment, Hell on Wheels).
Heading up the Producing team are Paul Armstrong (Moving Malcolm, See Grace Fly, Ill Fated), Daniel Arnold & Matthew Kowalchuk. Mary Anne Waterhouse (Fido, The Thaw, Donovan's Echo, That Burning Feeling) & Andrew Currie (Fido, The Delicate Art of Parking, Mile Zero) of Quadrant Motion Pictures serve as Executive Producers. Completing the team are Co-Producer/Line Producer Robyn Wiener (American Mary, The Wingman, Black Fly) & Associate Producer Don Thompson of Finalé Editworks.
The project attracted a talented team including story editors Kyle Hunter & Ariel Shaffir (producer/story editors on 50/50, Goon, This is the End, Sausage Party), story consultant Daniel Petrie Jr (Academy Award nominated writer of The Big Easy and Beverly Hills Cop), and award winning twin Cinematographers Nelson Talbot & Graham Talbot (Primary), Production Designer Guy Roland (Backmask), Costume Designer Jojo MacDowall (The PI Experiment), Composer Don Macdonald (Camera Shy, Kissed) & Editor David Legault (Kink). The film was cast by Emmy-nominated Candice Elzinga.
The film received production funding from Telefilm Canada, Super Channel, and OutTV, and development funding from The Astral Media Harold Greenberg Fund, Corus Entertainment & Creative BC.
AWARDS 
The most recent award for Lawrence & Holloman is "BEST FEATURE" at the 15th annual Canadian Comedy Awards (www.canadiancomedy.ca). The producers were presented with the award in Ottawa, Ontario on September 14th, 2014.
Other awards for Lawrence & Holloman include "BEST CASTING" at BC's professional Leo Awards (www.leoawards.com), "BEST CANADIAN FILM" and "BEST COMEDIC ACTING" (Ben Cotton) at the Buffalo Niagara Film Festival (www.bnff.com), "BEST DIRECTOR OF A COMEDY" (Matthew Kowalchuk) and "BEST ACTOR IN A COMEDY" (Daniel Arnold) at the Victoria TX Indie Film Fest, Victoria Texas (www.vtxiff.com),  and  "BEST COMEDY" at The RxSM Self-Medicated Film Expo in Austin Texas. www.rxsm.org
The film also won "BEST EMERGING DIRECTOR" (Matthew Kowalchuk) at it's world premiere at the 2013 Vancouver International Film Festival.
http://www.viff.org/festival/films/f9205-lawrence-holloman
In addition, the film won "BEST CANADIAN FEATURE", "RISING STAR: ACTOR" (Ben Cotton), and "RISING STAR: FILMMAKER" (Matthew Kowalchuk) at the Edmonton International Film Festival 2013
www.edmontonfilmfestival.com
"The Jury unanimously chose this film for its original storyline, innovative direction by Matthew Kowalchuk, and stellar performances from Ben Cotton and Daniel Arnold."